Cymbeline
Please see the bottom of the page for explanatory notes.


ACT I SCENE III
A room in Cymbeline's palace.
Enter IMOGEN and PISANIO.
IMOGEN
I would thou grew'st unto the shores o' the haven,
And question'dst every sail: if he should write
And not have it, 'twere a paper lost,
As offer'd mercy is. What was the last
That he spake to thee?
PISANIO
It was, "His queen, his queen!"
IMOGEN
Then waved his handkerchief?
PISANIO
And kiss'd it, madam.






IMOGEN
Senseless Linen! happier therein than I!
And that was all?
PISANIO
No, madam; for so long
As he could make me with this eye or ear
Distinguish him from others, he did keep
10
The deck, with glove, or hat, or handkerchief,
Still waving, as the fits and stirs of's mind
Could best express how slow his soul sail'd on,
How swift his ship.
IMOGEN
Thou shouldst have made him
As little as a crow, or less, ere left
To after-eye him.
PISANIO
Madam, so I did.
IMOGEN
I would have broke mine eye-strings; crack'd them, but
To look upon him, till the diminution
Of space had pointed him sharp as my needle,
Nay, follow'd him, till he had melted from
20
The smallness of a gnat to air, and then
Have turn'd mine eye and wept. But, good Pisanio,
When shall we hear from him?
PISANIO
Be assured, madam,
30
With his next vantage.
IMOGEN
I did not take my leave of him, but had
Most pretty things to say: ere I could tell him
How I would think on him at certain hours
Such thoughts and such, or I could make him swear
The shes of Italy should not betray
Mine interest and his honour, or have charged him,
30
At the sixth hour of morn, at noon, at midnight,
To encounter me with orisons, for then
I am in heaven for him; or ere I could
Give him that parting kiss which I had set
Betwixt two charming words, comes in my father
And like the tyrannous breathing of the north
Shakes all our buds from growing.
Enter a Lady.
Lady
The queen, madam,
Desires your highness' company.
IMOGEN
Those things I bid you do, get them dispatch'd.
I will attend the queen.
PISANIO
Madam, I shall.
[ Exeunt.
Cymbeline, Act 1, Scene 4


_______

Explanatory Notes for Act 1, Scene 3
From Cymbeline. A.W. Verity. Cambridge, University Press.

______

3, 4. "The loss of that paper would prove as fatal to her, as the loss of a pardon to a condemned criminal" -- Steevens.

9, 10. this; emphasised by the gesture of pointing; the Folios have his, due probably to he (twice) and him, occurring in the two lines.

24. With his next vantage, at the earliest opportunity.

29. shes, women; cf. I. 6. 39, and As You Like It, III. 2. 9, 10:
"Run, run, Orlando; carve on every tree
The fair, the chaste and unexpressive she."
So he = 'man,' e.g. in Romeo and Juliet, V. 1. 66, 67:
"Such mortal drugs I have; but Mantua's law
Is death to any he that utters them."
32. encounter me, meet me reciprocally.

33. I am in heaven for him; "my solicitations ascend to heaven on his behalf" -- Steevens.

35. charming, which should act like a charm, i.e. in protecting him, e.g. 'fare well!'




How to cite the explanatory notes:
Shakespeare, William. Cymbeline. Ed. A.W. Verity. Cambridge, University Press, 1899. Shakespeare Online. 10 Dec. 2013. < http://www.shakespeare-online.com/plays/cymbel_1_3.html >.

How to cite the sidebar:
Mabillard, Amanda. Notes on Shakespeare. Shakespeare Online. 10 Dec. 2013. < http://www.shakespeare-online.com/plays/cymbel_1_3.html >.
_____


More to Explore

Cymbeline: The Play with Commentary

Cymbeline Plot Summary

Famous Quotations from Cymbeline

How to pronounce the names in Cymbeline

Sources for Cymbeline

Introduction to Imogen

Introduction to Guiderius and Arviragus

Introduction to Cloten

Introduction to Cymbeline

Introduction to Posthumus

Introduction to Iachimo
_____
Notes on Shakespeare...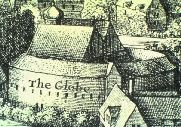 Shakespeare probably began his education at the age of six or seven at the Stratford grammar school, which is still standing only a short distance from his house on Henley Street. Although we have no record of Shakespeare attending the school, due to the official position held by John Shakespeare it seems likely that he would have decided to educate young William at the school which was under the care of Stratford's governing body. Read on...
____

Shakespeare acquired substantial wealth thanks to his acting and writing abilities, and his shares in London theatres. The going rate was ï¿&fraq12;10 per play at the turn of the sixteenth century. So how much money did Shakespeare make? Read on...






Shakespeare was familiar with seven foreign languages and often quoted them directly in his plays. His vocabulary was the largest of any writer, at over twenty-four thousand words. Read on...
____

Known to the Elizabethans as ague, Malaria was a common malady spread by the mosquitoes in the marshy Thames. The swampy theatre district of Southwark was always at risk. King James I had it; so too did Shakespeareï¿&fraq12;s friend, Michael Drayton. Read on...
____



Shakespeare's Treatment of Love in the Plays

Shakespeare's Dramatic Use of Songs

Shakespeare Quotations on Love

Shakespeare Wedding Readings

Shakespeare on Sleep